About The 1770 Beach Hotel and The Tree Restaurant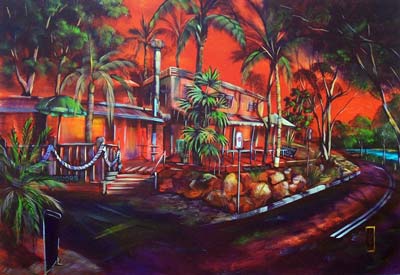 The Tree Bar opened in 1973 by owners, Jack & Nora Lewis with the help of Jack and Mavis Rowe who moved to 1770 to assist in the upkeep of the Bar. It was the first store to exist in the Town of 1770, in a town with no communication The Tree Bar had a radio for the Royal Flying Doctor Service based at the store. This was a valuable service for locals, visitors and passing vessels.
Jack and Nora sold The Tree Bar to the Black family in the late 1970's and eventually ended up in the hands of Jones & Gyngall.
In December of 2009, The Tree Bar was reborn and in 2010 became The 1770 Beach Hotel. Rescued from closure and certain demolition, local property owners, Wayne and Maree Lazarus took on the daunting task of renovating and upgrading the severely run down bar and restaurant and turning its reputation with locals and visitors alike.
A feature of the renovation was the refurbishment of the famous Tree Bar leadlights, now lovingly rebuilt and taking pride of fine dining and meeting point in the Town of 1770. With the acquisition of a full hotel licence and a state-of-the-art kitchen we are now providing patrons with the best wine and beer selection in the area as well as the most enjoyable dining experience.
Using fresh local seafood and locally grown produce, our chefs have only the finest ingredients to work with.
So welcome to the friendliest spot in 1770, enjoy the finest coffee on the coast or visit us for breakfast, lunch or dinner or just drinks on the deck and witness the magnificent view!